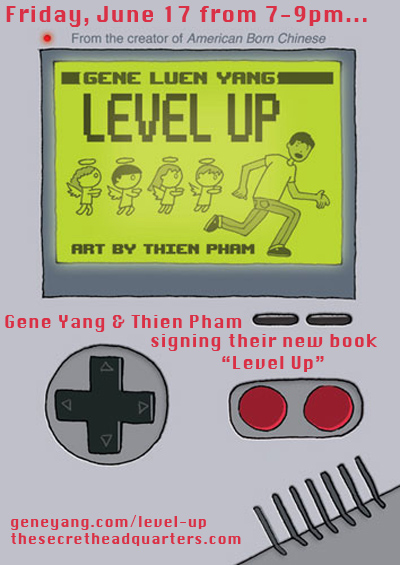 GENE YANG & THIEN PHAM
"LEVEL UP" SIGNING
@ Secret Headquarters
Friday, June 17th from 7pm – 9pm
Join us in celebrating the release of "American Born Chinese" writer Gene Yang and artist Thien Pham's new graphic novel, "Level Up". Stop by this Friday to have a drink and get your book signed!
A rundown of the new book:
"Smackdown! Video Games vs. Medical School!
Which will win the battle for our hero's attention in Gene Luen Yang's new graphic novel?
Dennis Ouyang lives in the shadow of his parents' high expectations. They want him to go to med school and become a doctor. Dennis just wants to play video games—and he might actually be good enough to do it professionally. But four adorable, bossy, and occasionally terrifying angels arrive just in time to lead Dennis back onto the straight and narrow: the path to gastroenterology. It's all part of the plan, they tell him. But is it?
This powerful piece of magical realism brings into sharp relief the conflict many teens face between pursuing their dreams and living their parents'. Partnered with the deceptively simple, cute art of newcomer Thien Pham, Gene Yang has returned to the subject he revolutionized with American Born Chinese. Whimsical and serious by turns, Level Up is a new look at the tale that Yang has made his own: coming of age as an Asian American."
Read an excerpt of the new book here. See you on Friday!